ASE30DH EMERGENCY ESCAPE SYSTEM - SMOKE / GAS DETECTOR - SMOKE HOOD
Product Code:
ASE30DH Gas / Smoke Detector & Smoke Hood
Availability:
In Stock
SPECIAL PRICING ON ALL PRODUCTS - CALL or EMAIL US
Model ASE30DH EMERGENCY ESCAPE SYSTEM
WORLD PATENT - Only one of it's Kind on this Planet
Youtube Video to View of Our ASE30DH Emergency Escape System
https://www.youtube.com/watch?v=rHcHDzV3fE4
# 1 30 MINUTES OF BREATHABLE FILTERED AIR FIRE ESCAPE SMOKE HOOD
# 2 WALL MOUNTED SMOKE & GAS DETECTOR with 6 foot Power Cable
Unit is to be placed at Eye Level to ensure Quick Detection
# 3 AC / DC 110 / 220 AUTO SWITCHING POWER
8 HOUR BATTERY BACKUP IF POWER FAILURE
# 4 LATEST GENERATION PHOTO-ELECTRIC SMOKE / GAS DETECTOR
# 5 AUDIBLE VOICE ALARM " SMOKE HAS BEEN DETECTED - USE THE ESCAPE HOOD & EVACUATE THE AREA"
# 6 EMERGENCY LED LIGHTING
# 7 NEW GLOW IN THE DARK STRAPPING ON HOOD - EASILY VISIBLE BY RESCUE AUTHORITIES
# 8 6 YEAR FREE REPLACEMENT WARRANTY ON SMOKE HOOD + 1 YEAR WARRANTY ON SMOKE DETECTOR
# 9 CASE CONTRUCTED OF HEAVY DUTY ABS PLASTIC
#10 FREE SHIPPING INCLUDED
CE & FCC CERTIFIED - UL LISTED
CE EN403-1993 / CE EN403-2004 / CE EN143-2000
NIOSH / CDC 82 CFR 42 N100
RRP $129.88
SMOKE HOOD - A 5 Part System - To Protect you Against
Carbon Monoxide ( CO )
Hydrogen Cyanide ( HCN )
Hydrogen Chloride ( HCL )
Acrolein ( CH2CHCHO )
Anthrax
Protection against many other toxic gases and
smoke as well as hot falling ash.
Provides head protection against radiant heat
and direct flame up to 1000C ( 1800 F )
Typical Fire burns at 1000 Degrees Fahrenheit
GUARANTEED TO GIVE YOU A MINIMUM
of 30 MINUTES OF BREATHABLE FILTERED AIR
Wall Mounted Unit Measures - 10.75 ( 27.30 cm ) x 4.75 ( 12.07 cm ) x 4.50 ( 11.43 cm ) inches
Weight: 1.7kg per unit
10 units per case
approx. 8,300 units per 20 foot container
NOTE: This is a disposable unit and should be replaced
after the 6 year shelf life expires.
That is 6 years from the date of manufacture.
The Expiry Date is clearly marked on the labeling
Safe Escape EMERGENCY ESCAPE SYSTEM - - ASE30DH
World's ONLY Complete System that Gives 100% Protection for Escape from Toxic Smoke
Smoke / Gas Detection w/ Emergency Lighting / Audible Alarm / 30 Minute Escape Hood
70-85% of all deaths occur in a Fire Due to Smoke Inhalation
Each year More than 6 Million People Die from Smoke Inhalation due to Fire
We have the World's ONLY Complete Home / Business System that Gives 100% Protection for Escape from Toxic Smoke
Smoke / Gas Detection / Emergency Lighting / Audible Alarm
AC/DC Power with 8 Hour Battery Backup with 30 Minute Fire Escape Smoke Hood
ALL IN ONE
World Patent
Distributor Inquiries Welcome
Available Now for immediate delivery anywhere World Wide
Suggested Retail Price - - US$ 129.95
Audible Voice Alarm is Now Available in English and Mandarin Chinese
Able programmable to any Language or multiple languages with orders of 5000 units or more
Basic Colour now available is Orange
Various Colours also available with orders of 5000 units or more CE EN & FCC Certified.
Compliant to section 10.4.4 of ANSI/NFPA 72 as well as UL 217 and UL 268 as a Single Station Smoke Alarm
NOTE:
SAFETY CODE COMPLIANT: These Smoke and Fire Safety EVAC Hood products are complaint with
and / or have received approvals from the standards drawn by CSA, NFPA-NIOSH 84 CFR-42,
the ANSI/ISEA 110-2009 American National Standard for Air-Purifying Respiratory Protective Smoke Escape Devices,
the Brazilian Bureau of Standards, the Thailand Disaster Prevention Department, of the Interior Ministry,
the European standard EN 403 : 2004, EN :143-2000, EN 136 :1998, EN 403 :1993, EN 14387 : 2004,
EN 14941 : 1998, EN 12942 : 1998, Q / ( HJ ) GA01 : 2003, the Australian & New Zealand Standard AS/NZS 1716:2000,
the SABS ( South African Bureau of Standards), the Indonesian Ministry of Safety,
the CHILE Bureau of Mine Safety and the Japanese Standard 248.
WARRANTY
All product has a 6 year Shelf Life from the Date of Manufacture. We do not Offer Longer periods of time.
Quite Simply as our Product sells for less than Half that of our Major Competitors.
We wish to provide the Freshest Inventory to Guarantee Your Protection & Safety
whether attempting escape or awaiting rescue.
QUESTION: Would you put a 12 year old product on your head and feel comfortable enough to rely on it for your safety?
FREE ONE TIME REPLACEMENT ( Excluding ANY & ALL applicable Taxes or Duties)
Should you use it in an actual Documented Case where Fire / Smoke are or / were present
where-upon these units were used to facilitate escape or while awaiting rescue during the 6 years.
Product should be returned to Distributor or Ourselves along with a Official Report from Law Enforcement / Fire /
Civil Defense / Military Authorities in order to verify its actual usage in an actual situation where Smoke and / or Fire were present.
USAGE POLICY Our ASE30 / ASE30A / ASE30BR / PURIFYAIR 30M / HFZY30 EEBD are ALL 30 Minutes
If they are to be BELOW the 20th Floor then No problem - we will provide these units
to ensure adequate time for either rescue or escape
We have many World Wide that use the ASE60 / ASE60A / ASE60BR / PURIFYAIR 60M / HFZY60 EEBD - 60 minute hoods
We are the only Manufacturer that have these available WORLD WIDE
If the User insists on using our 30 Minute Hoods above the 20th Floor ,
we will insist that our Liability Release Form be signed prior to delivery
absolving us from any legal action should they or any user have complications
due to NOT having adequate time to either be rescued or to escape.
Remember 9-1-1 - There were 1000 units of the EVACU8 Safety Hoods
( by DuPont ) in each of the TWINTowers
They were good for only 15 minutes against CO – Carbon Monoxide
- they didn't save anyone's life - it was not enough time
Fire is indiscriminate - You Need the Longest Possible Time for Your Protection
while attempting ESCAPE or Awaiting RESCUE
Please Note: the EVACU8 is no longer made since June of 2006, and Most recently
the Peace of Mind unit also has ceased to be made as of June 2010.
REMEMBER - DRAGER PARAT C & MSA sCAP
Are also only good for 15 Minutes against CO
Not enough Time to Escape / Evacuate Safely
We are an international manufacturer of Affordable Fire Rescue & Safety Equipment with offices
located in St. Louis, Missouri USA and Guangzhou, China specializing in Fire Rescue & Safety Equipment,
such as; Fire Escape Smoke Hoods, Fire Blankets, Gas Masks, CHEM-BIO, Gas Fire Escape Smoke Hoods,
CBRN, SCBA's, Fire Escape Ropes, Escape Ladders, as well as Fireman's Suits.
Providing solutions for Governments, Military, Fire, First Responders, Rescue Authorities
and PPE Personal Protective Equipment for Individuals WORLD WIDE.
We supply the NBA in USA / The US Air Force / Australian Air Force / The Philippine Navy /
The CIA ( Central Intelligence Agency ) Exxon-Mobile / Shell Oil / NASA / The United Nations /
Nestle / FEDEX / Dow Chemical and 1000's of others World Wide.
This is not a toy
and should be used in accordance with the instructions
and limitations stated on the labeling and literature.
Any use outside of it intended usage will void any
and all implied or expressed warranty(s)
and the manufacturer, agent and / or distributor
will not be held liable for any damages as a result of
or occurring due to the misuse of this device.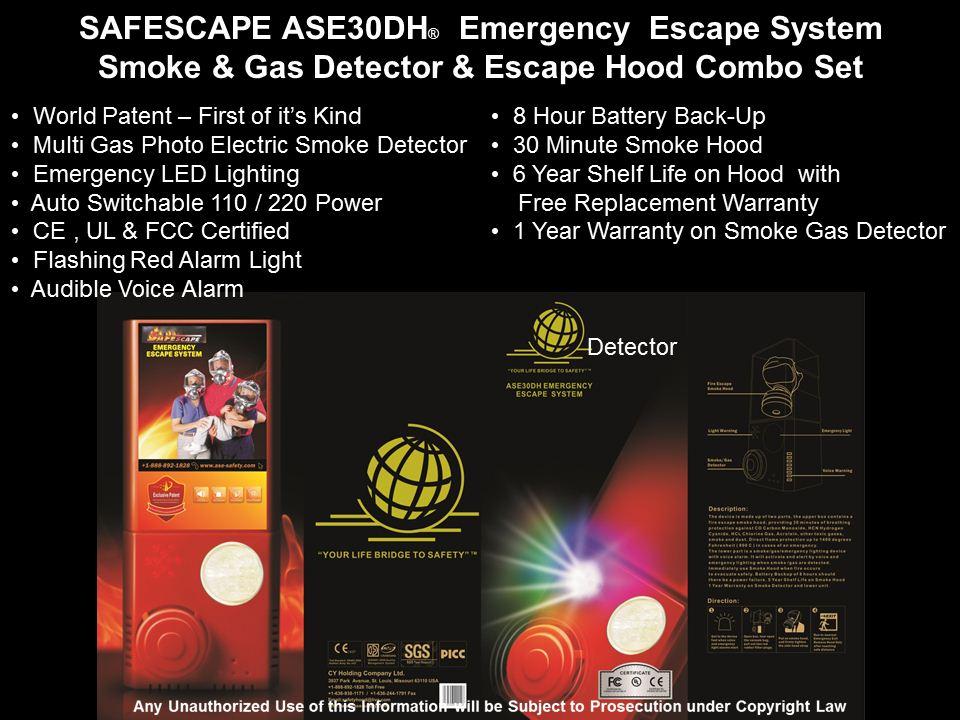 Write a review
Your Name:
Your Review:
Note: HTML is not translated!
Rating:
Bad
Good
Enter the code in the box below: