SCBA - 30 Min. Self Contained Breathing Apparatus
Product Code:
RHZKF6.8/30 SCBA 30 MINUTES
Availability:
In Stock
Price: $995.95

We are an international manufacturer of Affordable Fire Rescue & Safety Equipment with offices
located in St. Louis, Missouri USA and Guangzhou, China specializing in Fire Rescue & Safety Equipment,
such as; Fire Escape Smoke Hoods, Fire Blankets, Gas Masks, CHEM-BIO, Gas Fire Escape Smoke Hoods,
CBRN, SCBA's, Fire Escape Ropes, Escape Ladders, as well as Fireman's Suits.
Providing solutions for Governments, Military, Fire, First Responders, Rescue Authorities
and PPE Personal Protective Equipment for Individuals WORLD WIDE.
We supply the NBA in USA / The US Air Force / Australian Air Force / The Philippine Navy /
The CIA ( Central Intelligence Agency ) Exxon-Mobile / Shell Oil / NASA / The United Nations /
Nestle / FEDEX / Dow Chemical and 1000's of others World Wide.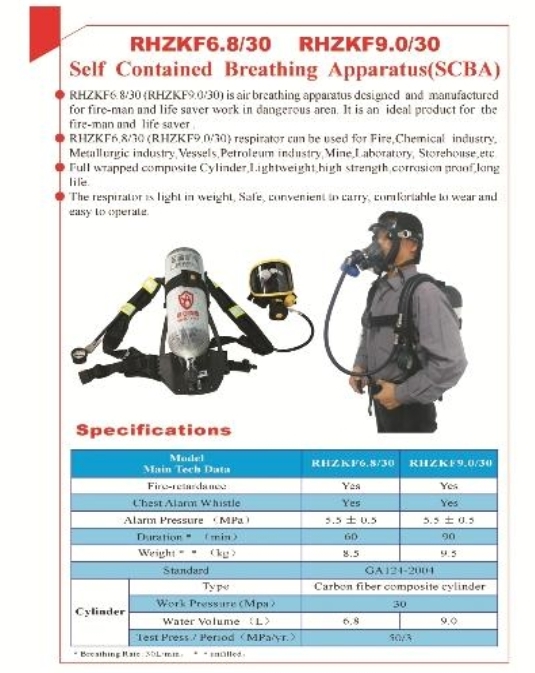 FREE SHIPPING INCLUDED IN PRICE
This is not a toy
and should be used in accordance with the instructions
and limitations stated on the labeling and literature.
Any use outside of it intended usage will void any
and all implied or expressed warranty(s)
and the manufacturer, agent and / or distributor
will not be held liable for any damages as a result of
or occurring due to the misuse of this device.
Write a review
Your Name:
Your Review:
Note: HTML is not translated!
Rating:
Bad
Good
Enter the code in the box below: